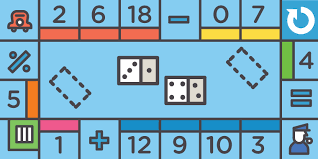 Many studies have pointed out that students could easily develop fear and hatred for learning mathematics due to the mundane nature and structure of traditional lessons. This often results in a lack of understanding of the mathematical symbols, formulae, and equations which can contribute to a poor attitude towards mathematics learning.
Mathematics is a beauty that is seen, felt, and must be understood to be employed (Ekwueme, Meremiku & Enukoha, 2009). Mathematics helps learners find meaning in their environment. As they learn to reason, connect ideas, analyze situations and think logically, they gain important tools and concepts for making sense out of a real-life situation. A clear idea of one's knowledge of what goes on in the mathematics classroom these days reveals that teaching procedures in use make mathematics instructions boring and uninspiring (Oragwam, 2006). The use of games could provide a good alternative that could drive the learning of this subject to our environment.
Mathematics curriculum planners are always making efforts to include different types of methods and strategies for teaching and learning the subject, but they always left out the option of using games as a form of teaching tool.
Games are competitive interactions among participants to achieve pre-specified goals. Agwagah (2001) stated that a game is regarded as mathematical when the players can perceive /or influence the course of the game on the basis of mathematical considerations. An instructional game is a structured activity with set rules for play in which two or more students interact to reach clearly designated instructional objectives (Harbor-Peters, 2001). The strength of games in mathematics teaching and learning is in the ability of a game to provide drills and practical applications.
Akpan (1988) asserted that Mathematics educators could improve the teaching and learning of the subject through games particularly at the early stage of education. He further stated that ''children are natural lovers of games, hence it could be a good strategy to incorporate and consolidate teaching and learning with games".
Using games to teach Mathematics ensures that students are practicing facts and formulas, even if their practice is limited to the classroom. Students not only recite formulas through games, but they learn how to put the formulas into practice in common applications. Such practice helps students develop the ability to solve problems and build on their knowledge for higher-level processes.
It also could be said that because games focus on fun, rather than performance, they are an excellent method of reducing Math-related anxiety in students. In addition, games allow students to see that other students are at various levels of competence in mathematics, which helps to ease the anxiety that comes with the fear of being behind other students.
Some of the other advantages of employing games as teaching tools are:
They are highly motivating because the child is actively participating and is in control
It involves immediate feedback and an element of competition
They have well-defined limits and directions
They are meaningful experiences, somewhere between concrete reality and the abstract world
They can be used to consolidate classwork or to encourage and enable a child to extend his or her skills.
One of the constraints in the use of games could come from a lack of re-enforcement on the part of the teachers that will go all out to produce games that will match the concepts in their scheme of work. Most teachers feel it is a waste of time teaching with games because according to most of them, it is time-consuming and too cumbersome. However, the result is often surprising and worth the effort.
Mathematics is a dreaded subject, basic facts must be learned before moving on to basic applications, and each level of application should build on the level before it. All of the facts and formulas become tedious and time-consuming, leading students to avoid the subject whenever possible. Using games to teach Mathematics helps learners in several ways. It helps in making Mathematics more interesting to the students and less stressful. By observing other students and listening during the games, students will develop the understanding they may have missed during tedious lectures and homework.